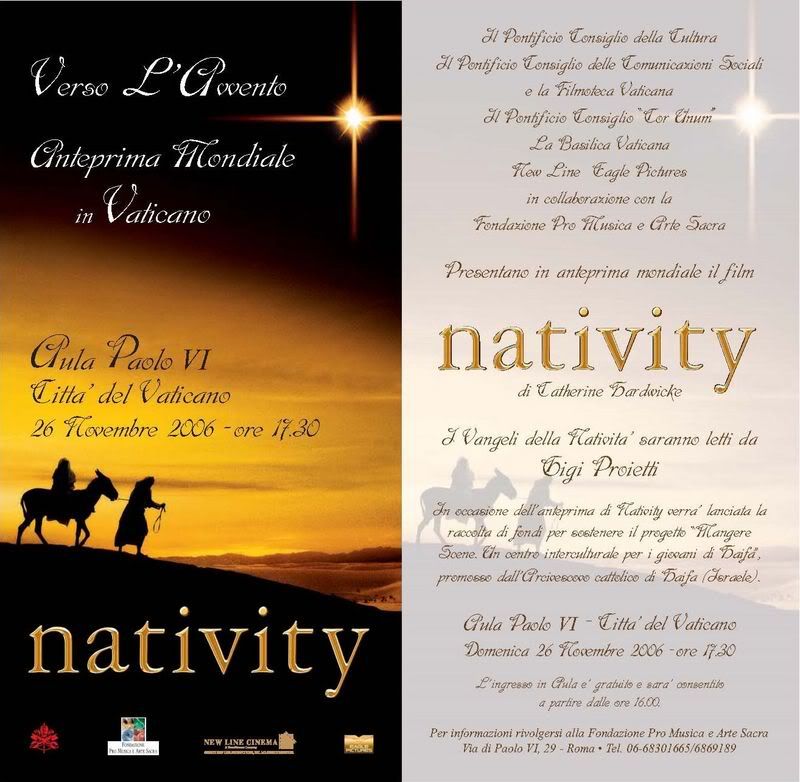 "The Nativity Story" Is First Feature Film Ever to Premiere at the Vatican

LOS ANGELES, CA -- (MARKET WIRE) -- November 09, 2006 -- On Sunday, November 26th, New Line Cinema's "The Nativity Story" will become the first feature film ever to premiere at the Vatican, it was jointly announced today by New Line's President and COO of Worldwide Distribution and Marketing Rolf Mittweg, and Stefano Dammicco, CEO of Eagle Pictures, the film's Italian distributor. "The Nativity Story" is scheduled for a Dec. 1, 2006 release in the U.S., and will open in territories worldwide throughout the month of December.

The premiere, to be held at the Vatican's Aulo Paolo VI (Pope Paul VI Hall), will be attended by "The Nativity Story's" director Catherine Hardwicke, actors Shohreh Aghdashloo and Oscar Isaac, producers Marty Bowen and Wyck Godfrey, screenwriter Mike Rich, and 7,000 invited guests of the Vatican. The event will serve as a benefit, with contributions going toward construction of a school in the village of Mughar, Israel -- which has a diverse population of Christians, Muslims, and Druze and is located approximately 40 kilometers from Nazareth.

"We are very proud of 'The Nativity Story' and extremely grateful that the Vatican has embraced the film in this way," says Mittweg. "We believe it is the perfect venue to present the film's universal message of hope and faith, a message we are sure will resonate around the world."

"'The Nativity Story' is an extraordinary event, and this premiere is a fitting way to reach out to our community and share the experience," says Dammicco. "It is a privilege for Eagle Pictures to be New Line's Italian partner on the film."

The event has been made possible due to the collaboration of the Pontifical Council for Culture, the Pontifical Council for Social Communication, the Vatican Film Library, the Pontifical Council "Cor Unum" (for Human and Christian Development), the Vicariate of Vatican City State, and the Foundation for Sacred Art and Music.

"The Nativity Story" chronicles the arduous journey of two people, Mary and Joseph, a miraculous pregnancy, and the history-defining birth of Jesus. This dramatic and compelling story comes to life in a major motion picture starring Academy Award® nominee Keisha Castle-Hughes ("Whale Rider") as Mary, Oscar Isaac (upcoming "Guerrilla") as Joseph, and Academy Award® nominee Shoreh Aghdashloo ("House of Sand and Fog") as Elizabeth, the mother of John the Baptist. "The Nativity Story" is directed by Catherine Hardwicke ("Thirteen," "Lords of Dogtown") from a screenplay by Mike Rich ("The Rookie," "Finding Forrester").
The world premiere for the New Line
film
, sometimes called a prequel to The Passion of the Christ, will be held in the Holy City with a high profile guest list.
Friday, November 10, 2006 at 12:01 AM
By
Dennis Michael
Now here's what we call an endorsement: The Nativity, the film depicting the difficulties facing Mary and Joseph as she prepared to give birth to the baby Jesus, is getting its world premiere in an unusual venue. Daily Variety reports the film will get its debut at the Vatican.
The film is booked into Vatican City's Paul VI hall on Sunday, November 26. The film's director,
Catherine Hardwicke
, Oscar Isaac, who plays Joseph and Mike Rich, who punched up the original story in the Bible for the film's script, are among those expected to attend. The Pope has been invited as well, and officials say they are 99 percent sure he's coming, as the Vatican has already given the film it's blessing.
The Pope usually doesn't show up at
movie
events, so this could be something of a first. For those of you who live in the US and don't head up an ancient worldwide religion, The Nativity will open in the US and internationally on December 1st.

"The Nativity Story" to Open at Vatican
Depicts a Year in the Life of Our Lady
VATICAN CITY, NOV. 19, 2006 (
Zenit.org
).- The world premiere of the film "The Nativity Story" is scheduled to take place Nov. 26 in the Vatican. Among the 7,000 people who will attend the screening in Paul VI Hall are the director, Catherine Hardwicke; actors Shoreh Aghdashloo and Oscar Isaac; producers Mary Bowen and Wyck Godfrey; and screenwriter Mike Rich.

The screening of the film, produced by New Line Cinema, will be preceded by the reading of a Gospel passage and a prayer written by Archbishop Angelo Comastri, the Pope's vicar general for Vatican City State and archpriest of St. Peter's Basilica. Archbishop John Foley, president of the Pontifical Council for Social Communications, will give the presentation address.

The event will serve to collect funds for the construction of a school in the town of Mughar in Israel, whose population comprises Christians, Muslims and Druze. The town is 40 kilometers (25 miles) from Nazareth. "The Nativity Story" presents the year in Mary's life that culminates with the birth of Jesus, the visit of the shepherds and Wise Men to the stable, Herod's brutal response with the massacre of the Innocents, and the flight of the Holy Family to Egypt.

According to Peter Malone, film critic at Signis, the World Catholic Association for Communication, the movie is interesting both for Christians as well as non-Christians. "The screenplay is well grounded in the biblical texts, both the heritage of the Old Testament as well as the text and spirit of the Gospel infancy narratives," Malone stated. "This gives the film an advantage over narratives which limit the perspective to a literal reading of texts and rely on piety traditions for visual presentation. "It has also been noted that the screenplay offers substantial historical background to understand Palestine in these times and how the characters were influenced by their environment as well as by the harshness of authorities." The film will be released in most countries on Dec. 1.
The Associated Press
Updated: 6:20 p.m. ET Nov 26, 2006


VATICAN CITY - A movie about the birth of Jesus Christ made its world premiere Sunday at the Vatican, the first time a feature film debuted here.


Some 7,000 people showed up at the benefit screening of "The Nativity Story" in Paul VI Hall, the auditorium regularly used for audiences with pilgrims, although Pope Benedict XVI was not present.


"I think the pope is pretty busy," quipped director Catherine Hardwicke, referring to Benedict's upcoming trip to Turkey.


"The Nativity Story," which opens in the United States and Italy in time for the Christmas holidays on Dec. 1, describes Mary's pregnancy and the trip she and Joseph undertake to Bethlehem, the town of Jesus' birth. It explores Mary's reaction—of fear, doubt and ultimately faith—to what is happening to her.


The film stars as Mary Australian-born Keisha Castle-Hughes, of "Whale Rider" fame, who was not present at the premiere; and Oscar Isaac as Joseph. Shohreh Aghdashloo, who was nominated for an Oscar for best supporting actress in "House of Sand and Fog," stars as Elizabeth, the mother of John the Baptist.


The director's previous works include "Lords of Dogtown" and "Thirteen."


The 102-minute film was shot between Morocco and Matera, a town in southern Italy where Mel Gibson shot "The Passion of the Christ."


Hardwicke praised "The Passion," but said she tried to do a more uniting film than Gibson's blockbuster about the last hours of Jesus Christ.


"There were some things he did that maybe were a little controversial. We wanted our film to be uniting and make the public see the similarities between religious instead of the differences," she said.


'A universal message'Before the screening, Archbishop John Foley, a U.S. prelate who heads the Vatican's social communications office, praised what he called a dialogue between faith and culture.


"Cinema, a powerful means of communication, once again carries a universal message," he told the audience.


Some made-for-TV movies have had their premieres at the Vatican. Earlier this year, Benedict watched one of them, "Karol, A Pope Who Remained Man," which explored the life of his predecessor, John Paul II, who died in 2005.


Despite the Vatican's stamp of approval, Hardwicke said her movie sought to appeal not just to religious audiences.


"We hope that people might relate to the relationship in the film, Mary and Joseph, and how their love grows and gets stronger as each one of them has challenges," she said.


Producers said earlier this month that proceeds from the event would go toward the construction of a school in a village that is some 25 miles from Nazareth, the town of Jesus' childhood.


The village, Mughar, whose population includes Christians and Muslims, was one of the Israeli towns hit by rockets fired by Lebanon-based Hezbollah guerrillas over the summer.


"The Nativity Story" is by New Line Cinema, the company that produced "The Lord of the Rings" trilogy.


© 2006 The Associated Press. All rights reserved.
Inquirer
Posted date: November 26, 2006


LOS ANGELES—"WHAT DO YOU wear to the Vatican?"


It was our first time to hear someone express this dilemma in all our years of covering Hollywood. But that was a wonderful dilemma for director Catherine Hardwicke. She was laughing, but her question was actually serious. "The Nativity Story" will be the first film ever to premiere at the Vatican.


The movie which focuses on the journey and relationship of Mary and Joseph—including the matter of the immaculate conception and how it affects both of them—leading to the epochal birth of Jesus makes history today before 7,000 guests at the Pope Paul VI Hall.


"Black? Okay, cover the shoulders," Catherine tried to remember our colleagues' suggestions by repeating them. "No strapless outfits. I am not planning to wear a halter."


Everyone but the girl
The entire cast, key behind-the-camera talents and executives, will be at the Vatican to revel in the moment—except the film's star, Keisha Castle-Hughes, who essays the important role of Mary. The official explanation is that the actress who, at 13 made history as the youngest Oscar Best Actress nominee (for "Whale Rider" in 2002), is busy making a film in Australia. Some folks, though, are speculating that Keisha, 16, simply wanted to avoid the glare of media scrutiny because she is pregnant.


In what could be construed as life imitating art, Keisha became a mother-to-be after filming her role as the pregnant Mary. The father, Bradley Hull, is her boyfriend of three years. Catherine told us that, by coincidence, Bradley, who is 19, is a carpenter just like Mary's husband, Joseph.


When Catherine (who quipped, "I'm Keisha's spokesperson") was asked by a reporter why Keisha was not participating in the press interviews for the movie, she also gave the actress' filming commitment in Australia as the reason. But Catherine added with a laugh, "Keisha is also not that big of a fan of traveling and facing all these questions." The actress, who was born in Australia, lives in New Zealand.


Well, Catherine and Oscar Isaac, who plays a soulful Joseph (more about him Friday), more than made up for the absence of Keisha whose mother, Desrae Hughes, in another coincidental twist, just gave birth.


Filmed on location in Italy and Morocco (Jerusalem was deemed too modernized by Catherine), "The Nativity Story" also stars Academy Award-nominated actress Shohreh Aghdashloo ("Sand and Fog") as Elizabeth, who gave birth to John the Baptist late in her life. For a change, the lives of Mary, Joseph, Elizabeth and others are highlighted.


The first major biblical film to come out of Hollywood since Mel Gibson's controversial blockbuster, "The Passion of the Christ," "Nativity" is a product of Hollywood folks successful in their respective fields who, again by coincidence, found themselves bonding for a project in their individual quest for something deeper.


They are writer Mike Rich (who wrote "The Rookie" and "Miracle") and producers Wyck Godfrey (a talent agent) and Marty Bowen (a film executive). "All these evil Hollywood types," Catherine jokingly referred to these men and to herself in answering a question about how they came to work together for a movie that invigorated their faith.


Catherine was quoted as saying in Los Angeles' Daily News that her mother and a minister cousin think "Nativity" is God's answer to their prayers for a "spiritual and inspiring" movie to come her way. Funny and cheerful, Catherine, at first seemed an unlikely choice to direct, especially with her past two credits, which are about teen rebellion—"Thirteen" and "Lords of Dogtown," both critically praised.


Perfect choice
But when you consider that Mary was widely believed to be 14 at the time of her miraculous pregnancy, Catherine is the perfect choice to direct what is essentially a coming-of-age story of one of history's most beloved women.


Read on to enjoy Catherine's hilarious account of how difficult it was to direct the animals in the pivotal nativity scene.


How excited are you that your film is the first feature to premiere at the Vatican?
It's exciting for us. I'll be fascinated to see the movie with 7,000 people. Just that is going to be an interesting, intense experience—although the movie is going to be dubbed in Italian. I'm going to hear Keisha and everybody talking in Italian (laughing).


It will be held in this beautiful great hall. A black-tie affair, and it's for the benefit of a school in Israel that has people from Muslim, Jewish and Christian communities. So it's for unity and tolerance, which is exciting.


How did the movie end up having this premiere?
The Italian distributor, Eagle Pictures, had the idea that maybe this would be something the Vatican would support. The distributor had other movies, like "The Da Vinci Code," that could have no such prospect. Maybe the Vatican also thought this could be a positive thing.


What made you want to do this movie?
I grew up in the Presbyterian Church in South Texas. At Christmas, we would have this cool little nativity scene with the figurines, and sing Christmas carols. I loved Christmas but I didn't really think any deeper than that. When I read the script, it made Mary and Joseph feel like they were real people who were going through real struggles. That's what inspired me—to see if I could bring that to life.


It's a story that's had resonance and power for over 2,000 years. Even if you don't believe, you could see it as a beautiful magic realism kind of story with the star. Even if it's not your religion, you could see it as mythology or a spiritual journey.


The story makes you go deeper and try to understand better. Melchior, the wisest of the wise men says, "The greatest of kings born in the most humble of places." It strikes you as a revolutionary idea—that instead of coming upon a palace with all the riches and trappings, Jesus was born in a very humble place. A baby lying on the straw in a manger is a powerful idea—that God would send His Son for everybody, rich or poor.


How does the director of "Thirteen" and "Lords of Dogtown" suddenly direct "The Nativity Story"?
That shocked some people. This is the third in my teenage trilogy (laughter). According to all scholars, Mary was probably 13 or 14 when she conceived Jesus because life expectancy was very short during that time. Back then, when you hit puberty, it's time to start making babies. When I learned that, I was like, "How would Nikki (the 13-year-old character in "Thirteen") or Evan (Rachel Wood, who played Nikki) have dealt with this news that you're going to have to marry this older guy whom you don't even know and you're going to bear the son of God?" For a 13-year-old, that's pretty startling.


Last January, I got a stack of scripts. "The Nativity Story" was on top. I knew the producer, Wyck Godfrey. I started to read it and I thought, I'm probably not going to be interested. But I got fascinated thinking of Mary as a real person. So I kept reading. Then I started researching [and learned] that said Mary was probably 14 years old at the time.


How did you deal with the news that Keisha was pregnant at 16?
We had already finished the movie and she had delivered a beautiful performance. What an actor does afterward really isn't my business. I think it was very brave of her. She knew that the whole world would be talking about her but still she stood up and said, "I want to have this child." This is the right thing to do. In the movie Keisha as Mary says, "There's a will for this Child that's greater than what people will say." Maybe that gave Keisha the strength.


Do you think playing Mary influenced Keisha's decision to embrace her pregnancy?
I think it did in a way because she did go through this beautiful and difficult birthing scene. And her mother was pregnant and had this baby so I think the combination made her embrace the idea even more. Bradley, the father of Keisha's baby, is her boyfriend of three years who is actually a carpenter, too.


Some people are making a big fuss about Keisha's pregnancy. In New Zealand, 16 is the age of consent so it's legal there. Her mom just had a baby, too, so there are going to be two little babies side by side.


Do you think Keisha's pregnancy will affect the movie?
One of the Judeo-Christian principles is to not judge another person. So I hope people who will see the movie won't look at it in a judgmental way. That's what the movie is about, too.


How did Keisha get this important role?
I thought, who has beautiful Mediterranean colored skin? I didn't want a blonde-haired, blue-eyed Mary. She and all the actors had to look Middle Eastern. I thought, which 14-year-old actress has ever done a spiritual movie like this one? Keisha just popped into my head because I loved "Whale Rider." She was so soulful in that movie. I was in Jerusalem when I called her up. She was in [New Zealand] and had that Kiwi accent. I was like, "Oh my God, can she change her accent?" She worked for an hour with a dialect coach before she came to audition and she got rid of that Kiwi accent. The coach helped her get like a light Israeli accent.


The movie's locations are breathtaking. Why did you film in Italy and Morocco, instead of Israel?
When I first went to a meeting with the producers, I had all these drawings and photographs. I said, "I need to go on a plane to Jerusalem like tomorrow" and they said, "OK." Within two days, I was on a plane. But Jerusalem was very built up and modernized. I read that (Pier Paolo) Pasolini shot "The Gospel According to St. Matthew" in Matera (Italy). Mel (Gibson) shot part of "The Passion of the Christ" there, too. So when I went to Matera, I was struck by how much it looks like Jerusalem, the stone walls and the streets. It's an ancient, beautiful city. But this movie also shows Mary and Joseph's journey so we went to Ourzazate, Morocco for the incredible landscape.


How challenging was it to "direct" all those animals in the all-important nativity scene?
Imagine a morning that you wake up and you look at your call sheet and it says, the birth of Jesus. We're going to film that today and it seems kind of easy, right? Suddenly, you realize that animals do not care about movies. They don't watch the Golden Globes. They couldn't care less about hitting their marks or saying their lines. All they want to do is eat and go to the bathroom.


So we go to this location where we built this cave out on this hillside in the middle of nowhere. We have only from 8:30 when it gets dark until midnight to film the scene. So we bring in the momma cow and it takes four Italian guys in short shorts to get momma cow to lie down. Finally momma cow lies down. That's 25 minutes. Then baby cow does not want to go down. Baby cow is mad and it makes this face (she puts on a mad expression). So four more guys try to get the baby cow to lie down. Finally, the baby cow's lying down.


Then we bring in the donkey. I go, "Please, I hope the donkey is nice." The donkey kicks and starts knocking everything over and scrapes its arm. Then the representative of the Humane Society on the set says the donkey can't work if it's injured. I go, "But it just scraped its elbow." Too bad. It's out. So they bring the back-up donkey in. It lies down and all of a sudden, the Humane Society rep goes, "Cushion!" I grab a cushion and the rep goes, "This donkey has hemorrhoids." So we put the cushion under the donkey. We cover it with straw.


Okay, the sheep is next. They're the stupidest animal. Sheep think they can all become one sheep. They like to condense themselves into one sheep. They keep trying to get tighter and tighter. They're insane. We get the sheep to lie down. So everybody's lying down, everybody's happy. We bring in a real baby as Jesus. He's only seven days old and the parents are worried. The second the baby gets in there, he cries and spits up all over Mary. So we clean Mary.


And then guess who wants to go to the bathroom? Momma cow. She stands up, moos and runs out. The donkey runs out. The sheep also run out and kick over the lights. You start over and that was midnight. We didn't even get one shot on the first night but it looked so easy when you see the scene in the movie, right?


REEL NEWS
Estimated 7,000 turn out for world premiere and benefit screening, but the Pope wasn't among them.
by Josh Hurst posted 11/27/06


A new movie about the birth of Christ was "born" Sunday at The Vatican, but its Most Famous Resident wasn't able to attend. Pope Benedict XVI, preparing for a visit to Turkey, missed the world premiere screening of The Nativity Story, which opens worldwide on Friday, Dec. 1.


Keisha Castle-Hughes, who plays Mary, did not attend. Castle-Hughes, 16, announced in October that she is pregnant (by a 19-year-old boyfriend she's been dating for three years), and is staying out of the publicity limelight to focus on her pregnancy and the upcoming birth of her child, which she plans to keep.


USA Today
quoted Oscar Isaac as saying that "people are understanding" and "being compassionate, not condemning" Castle-Hughes. Isaac said that the themes of the movie and the lessons of Christ would urge people to "treat her in a more righteous way."

When asked to compare her film to The Passion of The Christ, Hardwicke said she tried to do a more uniting film than Mel Gibson's blockbuster about the last hours of Jesus Christ.


"There were some things he did that maybe were a little controversial," Hardwicke said. "We wanted our film to be uniting and make the public see the similarities between religions instead of the differences."

Cardinal Tarcisio Bertone, the Vatican's Secretary of State, who ranks second only to Pope Benedict in the Vatican hierarchy, said
the film is "well done
. It re-proposes this event which changed history with realism but also with a sense of great respect of the mystery of the nativity. It is a good cinematic event … the judgment is positive."

Proceeds from the event will go toward the construction of a school in a village that is some 25 miles from Nazareth, the town of Jesus' childhood. The village, Mughar, whose population includes Christians and Muslims, was one of the Israeli towns hit by rockets fired by Lebanon-based Hezbollah guerrillas over the summer.